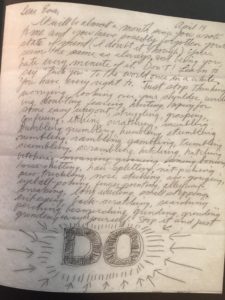 Over the years, I've seen two or three copies of the above letter posted in creative workplaces. But I never knew its origins until I came across it recently while meandering my way through Letters of Note (an excellent book, by the way).
The lengthy letter (this is the first page) was written in 1965 by artist Sol LeWitt to his friend and fellow artist Eva Hesse. Facing a creative block , Hesse had told LeWitt of her self-doubt, and he replied with this epic letter.
For your inspiration, here's a portion of page one (contains a few profanities, so hide it from younger kids):
Just stop thinking, worrying, looking over your shoulder, wondering, doubting, fearing, hurting, hoping for some easy way out, struggling, grasping, confusing, itching, scratching, mumbling, bumbling, grumbling, humbling, stumbling, numbling, rambling, gambling, tumbling, scumbling, scrambling, hitching, hatching, bitching, moaning, groaning, honing, boning, horse-shitting, hair-splitting, nit-picking, piss-trickling, nose sticking, ass-gouging, eyeball-poking, finger-pointing, alleyway-sneaking, long waiting, small stepping, evil-eyeing, back-scratching, searching, perching, besmirching, grinding, grinding, grinding away at yourself. Stop it and just DO.  
LeWitt ends his five-pages of encouragement with this final advice:
You must also believe in your ability…You have in your power the ability to do anything.
So do you. So do I.
So let's try putting all that other stuff aside. And just DO.